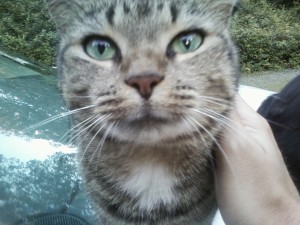 Look into my eyes ('Inky' has trained me well).  I'm too cute and adorable to be ignored.  You will do my bidding.
First, fish (btw, fish are yummy) out your wallet/purse/European handbag (which is still a purse).  Next, get out your credit card.  The one with the highest limit will suffice.  If you have an AMEX Black card, so much the better.
Now you will go online to purchase me and 'Inky' a lifetime supply of Temptations Treats.  You can itemize the expense as a charitable deduction on your tax returns.  I swear.  I'm too cuddly and awwww-inspiring to lie to you.
Your Omniscience-in-Training,
'Okie'